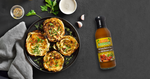 Serves: 4 |  Preparation time: 10 minutes | Cooking time: 15 minutes
Ingredients




Directions


1. 

Preheat an outdoor grill for medium heat.



2.

Evenly divide the cabbage among 4 squares of aluminum foil. Sprinkle 2 tablespoons of Cool Runnings BBQ Honey Mustard Sauce over each pile of cabbage, and place a tablespoon of butter on top. Season with pepper to taste, and fold the sides of the foil over the cabbage, sealing to form a packet.



3.

Place packets onto preheated grill, and cook until the cabbage is tender, 15 to 20 minutes.



4. Enjoy.