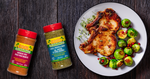 Serves: 6 |  Preparation time: 10 minutes | Cooking time: 15 minutes
Ingredients




Directions


1.

In a large bowl, combine lemon juice, oil, garlic, salt, oregano, barbecue spice, meat tenderizer seasoning, garlic, and pepper and herbs seasoning. Place chops in bowl, seal, and refrigerate 2 hours or overnight. Turn bowl frequently to distribute marinade.



2.

Preheat an outdoor grill for high heat. Remove chops from bowl, and transfer remaining marinade to a saucepan. Bring marinade to a boil, remove from heat, and set aside.



3.

Lightly oil the grill grate. Grill pork chops for 5 to 7 minutes per side, basting frequently with boiled marinade, until done.



4.

Serve with rice and vegetables.



5. Enjoy.