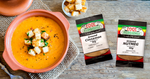 Servings: 4 servings | Prep time: 10 minutes | Cooking time: 30 minutes
Ingredients  




 
Directions


1. Take a large saucepan and heat up the oil over medium heat. Once oil is heated, add the carrots, onion and garlic to cook, remember to stir occasionally and keep  cooking until the vegetables start to brown at the edges (8-10 minutes). Add the spices and continue cooking for another minute. 

2. Add the sweet potatoes, bouillon base, bay leaves and 6 cups of water to the pan and bring it to a boil. Reduce the heat and simmer until the vegetables are tender (10 - 12 minutes).

3. While you are waiting for the pot to boil, heat the remaining oil in a large skilled over medium heat. Add the bread and cook, tossing occasionally to not burn it and let it develop a nice golden brown colour. Remove from heat, drizzle the maple syrup over the top.

4. Once the soup has boiled, toss the bay leaves. Use an immersion blender to puree the soup until smooth. Serve with maple croutons and enjoy!