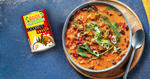 Serves: 4 |  Preparation time: 10 minutes | Cooking time: 20 minutes
Ingredients




Directions


1.

Heat the oil in a large saucepan. Sizzle the spring onion whites, pepper, Scotch Bonnet Pepper Sauce and garlic for 5-8 mins until soft and fragrant. Add the thyme leaf, curry powder and spices, then cook for 1 min more. Stir in the tomatoes, then cook for 2 mins to soften slightly.



2.

Crumble in the stock cube, then tip in all the beans and the coconut milk. Simmer for 10 mins. Turn off the heat and stir in most of the spring onion greens, the lime juice and some seasoning.



3.

Ladle into bowls and scatter with remaining spring onions just before serving.



4. Enjoy.