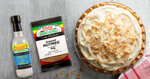 Ingredients  





1 9-inch deep dish Butter Pie Crust
3 egg yolks, slightly beaten
3 egg whites
1½ cups hot milk
½ cup grated coconut
½ cup castor sugar
4 tbsp. of granulated sugar
1 tsp. vanilla
½ tsp. of Cool Runnings vanilla extract
1 pinch of Cool Runnings nutmeg ground
1 pinch of cream of tartar
1 pinch of salt

 
Directions


1. Roll out pastry to fit 8" pie pan; trim edges.

2. Combine milk, sugar, salt, nutmeg, coconut and vanilla; stir in egg yolks.

3. Pour into pastry case and bake at 425°F for 10 minutes.

4. Reduce heat to medium and continue to bake at 350°F for 10-15 minutes.

5. Beat egg whites with cream of tartar until stiff; beat in gradually ½ cup castor sugar and ½ teaspoon vanilla slowly, beating well.

6. Spread on top of pie; bake in hot oven for 5 minutes until nicely brown.