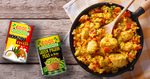 Ingredients  


 

 
Directions


1. Season chicken with salt, pepper, green seasoning, minced garlic, Worcestershire sauce, soy sauce and ketchup.

2. Heat oil in a large heavy iron pot or skillet.

3. Add sugar and allow to burn until brown.

4. Add seasoned chicken and stir until pieces are well coated with burnt sugar; brown for 5 minutes.

5. Add rice and turn often until well mixed. Cook for 3 minutes more.

6. Add onion, sweet peppers and peas and cook for a few minutes, stirring a few times.

7. Add salt, hot pepper, coconut milk and broth. Bring to the boil, lower heat, cover and simmer until rice is cooked and all liquid is evaporated (about 25-30 minutes).

8. Add more liquid if rice is still hard and continue to cook for a few more minutes.