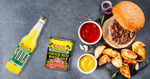 Ingredients  





1 can Cool Runnings corned beef (12 oz.)
1 cup seasoned, soft breadcrumbs
½ cup flour, seasoned with salt and pepper
½ cup finely chopped onion
½ cup dry breadcrumbs
⅓ cup finely chopped chive
¼ cup oil
1 egg
1 tsp. salt
½ tsp. Cool Runnings garlic powder
½ tsp. black pepper
1 egg, beaten with a little water

 
Directions


1. Blend together corned beef, breadcrumbs, 1 egg, onion, salt, garlic, chive and black pepper.

2. Form into 6 large patties, coat in flour, then in beaten egg and breadcrumbs.

3. Fry in shallow fat, turning once. Cook until golden brown; drain well.

4. Serve with scalloped or baked potatoes, vegetable rice or hamburger rolls.