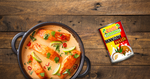 Servings: 4 servings | Prep time: 5 minutes | Cooking time: 30 minutes
Ingredients  




4 (4-oz.) salmon fillets
2 cloves garlic, minced
1 (14-oz.) can of Cool Runnings coconut milk
1 shallot, thinly sliced
1 tbsp. vegetable oil
1 tbsp. red curry paste
1 tbsp. sriracha
1 tbsp. fish sauce
2 tsp. freshly minced ginger
Cooked rice, for serving
Lime wedges, for serving
Freshly chopped cilantro, for garnish
salt and pepper to taste
Directions


1. Heat up oil over medium heat in a large skillet. Add the salmon skin side down and season with some salt and pepper. Let salmon cook for 5 minutes on both sides, until it is golden. Remove salmon from skillet and set aside on a plate.

2.  Return the skillet to the heat and add shallots. Let cook until golden and soft, about 3 minutes. Add curry paste, garlic, and ginger and cook until paste is darkened and fragrant, about 1 minute. Slightly reduce the heat and slowly add in the coconut milk, then sriracha and fish sauce and bring the sauce to a simmer. 

3. Return the salmon to the skillet and let simmer until it flakes easily with a fork, about 15 minutes depending on the thickness of the salmon. Spoon some sauce over the salmon and stir sauce occasionally. Adjust sauce to taste by adding more sriracha or fish sauce.

4. Spoon sauce over salmon and serve with rice, limes and garnish with some cilantro.