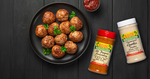 Serves: 4 |  Preparation time: 20 minutes | Cooking time: 20 minutes
Ingredients




Directions


1.

Preheat an oven to 400 degrees F (200 degrees C)

.



2. Place the beef into a mixing bowl, and season with salt, onion, all -purpose seasoning, garlic powder, crushed chili, oregano, hot pepper sauce, and complete herbs sauce; mix well. Add the milk, Parmesan cheese, and bread crumbs. Mix until evenly blended, then form into 1 1/2-inch meatballs, and place onto a baking sheet

.



3. Bake in the preheated oven until no longer pink in the center, 20 to 25 minutes

.



4. Serve and Enjoy

.