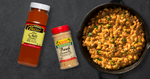 Serves: 8 |  Preparation time: 10 minutes |  Cooking time: 20 minutes
Ingredients




2 tablespoons olive oil

1 small onion, diced (about a cup)

2 pounds lean ground beef

3 cloves garlic, minced

1 teaspoon dried basil

1 teaspoon of 

Cool Runnings oregano

2 teaspoons salt

1/2 teaspoon of 

Cool Runnings hot chili powder

1/4 cup flour

1 can tomato sauce

1 cup beef broth

1 package of pasta

1 cup heavy cream

2 cups grated sharp cheddar cheese

1 tablespoon of Cool Running beef seasoning

optional – garnish with parsley (fresh or dried)



Directions


1. 

Heat the olive oil over medium heat in a large, deep skillet. When the oil is hot, add the diced onions and sauté for 5-6 minutes until they soften. Add in the ground beef spiced with Cool Runnings Beef Seasoning to the skillet and break the meat apart. Cook until no pink remains. Drain excess grease and return it to heat.



2.

With the heat still on medium, add in the garlic, basil, oregano, salt, hot chilli powder, and flour. Cook for 1 minute, constantly stirring to coat.



3.

Add in the tomato sauce and broth and stir to combine. Bring to a boil and simmer for 15 minutes.



4.  

While the sauce is simmering, boil one package of pasta according to the directions on the package. Drain.



5. 

Add the cream and pasta to the sauce, stirring to combine. Add in the cheese and stir until melted.



6.

Garnish with parsley if desired and serve immediately.