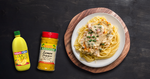 Servings: 4 servings | Prep time: 10 minutes | Cooking time: 20 minutes
Ingredients  


 
Directions


1. Take a large skillet and heat up the butter and oil over medium high heat. (You can take this time to pound the chicken to be thinner if they are overly thick). 

2. Season the chicken with salt, pepper and lemon pepper. Dredge the chicken in flour.

3. Put the chicken breast in the skillet. Cook for 3 minutes on each side, making sure the chicken is thoroughly cooked. Remove from skillet and set aside on a plate. 

4. Turn the heat to a medium low, and add chicken broth, lemon juice, heavy cream and capers into the skillet. Bring the sauce to a boil and put the heat to a medium low. Test the sauce and season with more salt and pepper to taste. Allow the sauce to cook and bubble for around 3 minutes. 

5. Serve the chicken over cooked pasta and spoon the sauce over both. Top if off with some fresh chopped parsley.