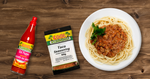 Servings: 8 servings | Prep time: 10 minutes | Cooking time: 40 minutes
Ingredients  


 

16 ounces of pasta noodles (spaghetti or vermicelli)
1 pound ground pork or spicy Mexican chorizo
1 can of crushed tomatoes (14 oz)
1 small onion chopped
2-3 cloves garlic chopped
2 jalapeno peppers chopped
3 tablespoons of sour cream
2 tablespoons chopped cilantro
2 tablespoons of Cool Runnings hot pepper sauce
3 tablespoons of Cool Runnings taco seasoning
Olive oil
Cotija cheese for serving


Directions


1. Heat up 1 tablespoon of olive oil in a large pan over medium heat. Add the jalapeno and onions into the pan and let cook for 5 minutes to soften. 

2. Add the garlic next, and continue cooking for another minute, remember to stir.

3. Now you can add the ground pork and let brown on each side. Break up the pork as you cook it. Once the pork is cooked through, add the crushed tomatoes to the pan and stir. Bring to a slight boil and reduce the heat to let the sauce simmer. 

4. In another pot, start preparing the noodles to al dente. Boil for about 12 minutes in salted water. 

5. Back to the sauce, add cilantro, hot sauce and the taco seasoning. Stir to incorporate it. Simmer for about 20 minutes or so to allow the flavors to penetrate.

6. Add a couple spoonful of pasta water to your  sauce and stir. Remove the sauce from the heat, and stir in some sour cram. Toss the noodles in the sauce and serve. Top it off with some shredded cotija cheese and enjoy!