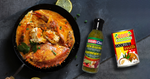 Servings: 8 servings | Prep time: 10 minutes | Cooking time: 40 minutes
Ingredients  


 



Directions


1. Clean the crab and cut into sections. 

2. Heat margarine and sauté onion, garlic, green seasoning and ginger in a pot.

3. Mix curry with coconut milk and add to onion and garlic; cook for a minute.

4. Add crab, salt, pepper, and water; bring to a boil and cook for 5 minutes 

5. Cover pot tightly, lower heat and cook for 25-30 minutes; add more water if needed. Adjust salt and pepper to your taste.

6. Serve with dumplings and enjoy!