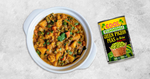 Ingredients




½ tsp. mustard seeds

2 tbsp. vegetable oil

½ lb. potatoes, peeled and cubed

¼ lb. tomatoes, sliced

1" piece ginger, crushed

¼ tsp. Cool Runnings chili powder

1 tsp. sugar

½ tsp. salt or to taste

hot pepper to taste



Directions


1. Fry mustard seeds in hot oil until they burst.

2. Add potatoes and fry for a minute.

3. Add a little water and allow to cook on medium heat until almost done.

4. Add tomatoes, green peas, ginger, turmeric, chilli, sugar, salt and pepper.

5. Cook on slow heat until tomatoes become pulpy and vegetables are cooked.