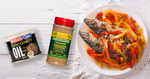 Servings: 4 servings | Prep time: 15 minutes | Cooking time: 30 minutes
Ingredients




Directions


1.

Ensure fish is rinsed and cleaned with lemon or lime in cool water.



2. Pat the fish dry with paper towels to remove as much moisture as possible and cut two slits on both sides of the fish.

3. Season with fish seasoning, salt and black pepper and allow to sit for five minutes.

4. To a clean pot, add coconut oil, garlic and fresh thyme and turn the heat to medium high. After about one minute, ensure the oil is piping hot before adding the fish. Fry on either side for five to six minutes and place on a wire rack to drain out excess oil.

5. Pour away the oil in the pot, leaving about t tbsp. Reduce fire to a low heat, add onion, pimento berries, a slice of scotch bonnet peppers, carrot strips and sauté for 2-3 minutes.


6. Add vinegar and brown sugar, cook for another 2-3 minutes.

7. Pour the sauce over the fried fish and leave to absorb the flavour. Serve and enjoy!