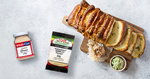 Ingredients




Directions


1.

Heat milk and margarine until margarine melts and milk is lukewarm. Combine 3 cups flour, cheese, garlic powder, yeast, salt and sugar with warm milk and stir well.



2.

Knead mixture until smooth and satiny using the remainder of flour. Place dough in a greased bowl, turning once to grease top. Cover and let rise in a cool place till doubled in bulk.



3. Punch down. Cover and let rise again until almost doubled in bulk. 

4. Turn on lightly floured board. Divide dough in half and let rest for 5-10 minutes; shape into loaves. Place in greased loaf pans. Cover and let rise until doubled.

5. 

Bake in a preheated oven at 375°F for 10 minutes; reduce temperature to 350°F and bake for another 20-25 minutes until done.