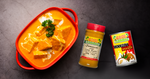 Serves: 4 |  Preparation time: 15 minutes | Cooking time: 25 minutes
Ingredients




1 pack of firm tofu (500g), cut into 1cm cubes

1 tbsp vegetable oil

1 medium onion, chopped

1 garlic cloves, minced

½ tsp fresh ginger, minced

1 can (400ml) 

Cool Runnings coconut milk

1 tsp, each, salt and black pepper

2 tbsp parsley, chopped



Directions


1.

Heat up a large saucepan over medium-high heat and warm up the vegetable oil.



2.

Add the onions and stir constantly until translucent, about 3 minutes. Then add the garlic and ginger and keep stirring until fragrant, about 2 minutes.



3. 

Add the tofu and sauté it for about 5 minutes.



4.

Add salt, pepper, 

Cool Runnings Jamaican Style Curry Powder

 and 

Coconut Milk

 and bring it to a boil.



5. 

Turn the heat off, cover and let it sit for 5 minutes.



6. Finish it with chopped parsley and serve it with basmati rice.


Tip: To add even more flavour, add some veggies to the recipe like cauliflower, broccoli or carrots.