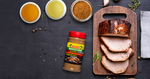 Ingredients  


 
Directions


1.

Preheat the air fryer to 400°F (200°C).

 

In a small bowl, mix together the Jamaican Jerk Seasoning and olive oil.



2.

Rub the spice mixture all over the pork tenderloin.



3.

Place the pork tenderloin in the air fryer basket and cook for 20-25 minutes, or until the internal temperature of the pork reaches 145°F (63°C).



4.

In the last few minutes of cooking, brush the pork tenderloin with honey and continue to cook until the honey has caramelized and the pork is cooked through.



5. Remove the pork tenderloin from the air fryer and let it rest for a few minutes before slicing and serving.