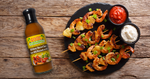 Ingredients




Directions


1.

Preheat oven to 350ºF. You will use three pieces of pineapple and two shrimps for each skewer. Alternate pineapple and shrimp, making sure you start and end with a pineapple. Repeat the process until you run out of ingredients.



2. Line a baking tray with parchment paper and lay skewers. Brush half of the Cool Runnings BBQ honey mustard sauce on all sides of the skewers.

3. Bake in the oven until the shrimp cooks, about 10 minutes.

4. Remove from the oven and brush the remaining Cool Runnings BBQ Honey Mustard Sauce.

5. Serve it as an appetizer or with rice and salad. Enjoy!