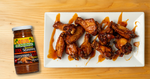 Servings: 2-4 servings | Cooking time: 50 minutes
Ingredients




500g chicken wings
1 tsp. oil
1/2 tsp. salt
1 tsp. black pepper
1-2 tbsp. Cool Runnings jerk seasoning (your choice of spice level)
1 tsp. browning
2 tbsp. oil
2 tbsp. honey



Directions


1. Clean chicken wings with lemon juice and pat dry. Season with the oil, salt, black pepper, all purpose seasoning, jerk seasoning and browning. Cover and marinate for 2 hours in the fridge or overnight.

2. Preheat the oven to 200 degrees Celsius and place the chicken wings onto a baking dish. Drizzle with the oil and bake in the oven for 30 minutes.

3. After 30 minutes, remove from the oven. Drain any juices into a small bowl and mix in the honey. Brush the honey sauce onto the wings and flip them over to bake for a further 20 minutes.

4. Remove from the oven once cooked and rest for 5 minutes before serving. Enjoy with some festivals for a tasty weekend treat.