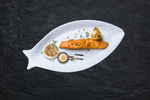 Serves: 4 servings | Prep time: 30 minutes
Ingredients




4 salmon fillets (6oz each)
1 tsp. grated lime zest
4 tbsp. Cool Runnings jerk seasoning
3 tbsp. mayonnaise
1/2 cup sweetened shredded coconut, toasted
1/4 cup cream of coconut
1/4 cup cornstarch
1/4 cup lime juice



Directions


1. Preheat the oven to 350°. Tale your salmon fillet and put them in a greased baking dish. Spread mayonnaise over the fillets and sprinkle with jerk seasoning. 

2. Let the fillets bake until they are easy to flake with fork, around 18 to 22 minutes. At the same time, take a small saucepan, combine the sour cream, cream of coconut, lime zest and juice; cook and stir over medium-low heat until blended. 

3. Take filets out of oven and drizzle them with sauce; garnish with coconut.