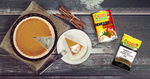 Servings: 8 servings | Prep time: 10 minutes | Cooking time: 55 minutes
Ingredients  


 

 
Directions


1. Preheat oven to 425F. In a large bowl, whisk together the pumpkin, coconut milk, brown sugar, ginger, cinnamon, nutmeg, allspice and salt. 

2. Next, whisk all 4 eggs in one by one into the mixture until smooth; stir in the rum.

3. Pour the filling into the pie shell and place on baking sheet and put into oven. Turn the heat down to 350F after 10 minutes and let bake for 45 minutes. The filling should not wobble. 

4. Transfer pie to a cooling rack and let cool. Top off with some whipped cream and serve!