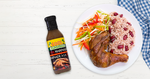 Ingredients  


 

 
Directions


1. Place the chicken in a large plastic bag or bowl and pour in the marinade. Toss the chicken in the marinade until evenly coated. Seal the bag or cover the and place in the refrigerator and let marinate for at least 1 hour or overnight. 

2. with Grill: Heat the grill to a medium-high heat and grill the chicken for 10-15 minutes total, flipping halfway through.

3. Without grill: Brown both sides of the chicken for about 10 minutes on a skillet over medium - high heat. Once done, transfer skilled to oven at 375F for another 20 minutes to finish cooking.

4. Serve with rice and peas and enjoy!