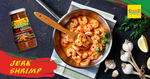 Serves: 4-6  |  Preparation time: 10 minutes |  Cooking time: 10 minutes
Ingredients




Directions


1. Make sure to defrost the shrimp before cooking.

2. Wash, peel and devein the shrimp. Pat dry.

3. Add 3 tablespoons of oil to shrimp along with the jerk seasoning (hot).

4. Let sit for at least one hour.

5. Heat a shallow pan and add 3 tablespoons of olive oil.

6. Gently lay shrimp in the oil on the pan in one layer. Cook for about 1 minute per side

7. Set shrimp aside, remove excess oil.

8. Squeeze lime juice over shrimp and serve.