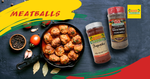 Serves: 4 to 6 | Preparation time: 20 -25 minutes | Cooking time: 20 – 25 minutes
Ingredients




½ cup fine, dry breadcrumbs

½ cup milk

2 eggs

½ cup grated Parmesan cheese

¼ cup chopped fresh parsley leaves

2 teaspoons salt

1 pound ground meat, such as beef, pork, chicken, or a mix

½ cup finely chopped onion

1 clove garlic, mince



Directions


1.

Combine breadcrumbs and milk. Place the breadcrumbs in a small bowl, pour in the milk, and stir to combine. Set aside while preparing the rest of meatball mixture. The breadcrumbs will absorb the milk and become soggy.



2.

Whisk 2 eggs in large bowl then add the parmesan, parsley, salt, 

Cool Runnings Paprika

 and 

Cool Runnings Black Pepper Ground

. Whisk all ingredients to combine.



3.

Add ground meat. Add the meat to the egg mixture. Use your hands to thoroughly mix the egg mixture into the ground meat.



4.

Add the onions, garlic and soaked breadcrumbs. Mix them thoroughly into the meat with your fingers.



5. 

Form the meat into the meatballs. Have a rimmed baking sheet ready. Pinch off a piece of the meat mixture and gently roll between your hands to form meatballs. Continue shaping until all the meat is used, placing the meatballs on the baking sheet so that they are not touching.



6.

Broil the meatballs 20 to 25 minutes. They are done when cooked through, the outsides are browned, and they register 165°F in the middle on an instant-read thermometer.



7.

Enjoy in your delicious meatballs

.