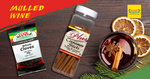 Serves: 12  |  Preparation time: 30 minutes | Cooking time: 30 minutes
Ingredients




Directions


1. Take a small skillet and heat up cloves, star anise, cinnamon sticks and nutmeg over low heat, stir often for about about 5 minutes or until toasted and fragrant.

2. Transfer spice mixture to a large saucepan over medium-low heat, and slowly stir in wine, orange peel strips, dark vanilla extract, maple syrup and honey.

3. Bring the mixture to just below a simmer, stir occasionally up to 15 or 20 minutes and remove from heat.

4. Let the spices steep for about 30 minutes and infuse them into the wine.

5. Bring the saucepan back to medium-low heat and stir in applejack, stirring occasionally until warmed all the way through, about 5 minutes.

6. Pour mixture through a fine wire-mesh strainer into a large heatproof bowl.

7. Ladle mulled wine into glasses and serve!