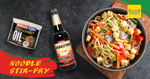 Serves: 6 |  Preparation time: 15 minutes | Cooking time: 20 minutes
Ingredients




1 pack of medium rice noodles (454g)

1 tbsp British Class coconut oil

1 medium onion, diced

1 garlic clove, minced

1 tsp fresh ginger, minced

2 red bell peppers, sliced

2 cups broccoli florets, uncooked

2 medium carrot, thinly sliced

¼ cup Chinatown soy sauce

1 tbsp sesame oil

Salt and black pepper, to taste

1 tbsp toasted sesame seeds, optional



Directions


1.

Soak noodles in lukewarm water until tender. Reserve.



2.

In a large skillet, melt British Class Coconut Oil, add onion and cook until translucent, about 3 minutes. Add ginger and garlic and cook until fragrant, about 2 minutes.



3.

Add broccoli florets, cook for 3 minutes, then add carrots and bell peppers. Keep cooking until all vegetables are tender, about 4 minutes.



4.

Add the reserved noodles, Chinatown Soy Sauce, sesame oil, and season with salt and pepper to taste.



5.

Sprinkle sesame seeds and Enjoy!