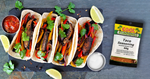 Ingredients




1 ½ lbs portobello mushrooms, cut into thick ¾-inch slices
2 tbsp Cool Runnings taco seasoning
2 tbsp olive oil
¼ cup lime juice
1 orange bell pepper, sliced
1 yellow bell pepper, sliced
1 red bell pepper, sliced
1 red onion, sliced
small flour tortillas
guacamole
cilantro



Directions


1. Preheat the oven to 450F. Grab a large bowl and make the marinade using taco seasoning, olive oil and lime juice.

2. Toss the Portobello mushrooms in the marinade, ensuring they are all evenly coated. 

3. Spread the ingredients across an oiled baking pan and bake everything for 20 minutes.

To add char to the mushrooms and veggies, broil for 3 minutes.



4.

Serve with warm tortillas, salsa, guacamole, and fresh cilantro!