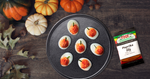 Servings: 6 servings | Preparation time: 5 minutes | Cooking time: 10 minutes
Ingredients




Directions


1.  Grab your 6 hard-boiled eggs and gently peel them and slice them down the middle in half. Separate the center yolks into a separate bowl.

2. Add mustard, mayonnaise, paprika, salt and pepper to the yolks and mix thoroughly!

3. Scoop the mixture into a piping bag, and pipe it back into the empty egg whites. Sprinkle with some paprika, and place a piece of chive to make it look like a pumpkin. 

4. Serve and enjoy!