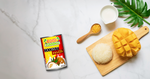 Servings: 6 servings | Preparation time: 5 minutes | Cooking time: 50 minutes
Ingredients




1½ cups glutinous (sweet) rice
1⅓ cups of Cool Runnings coconut milk
⅓ cup plus 3 tablespoons sugar
¼ teaspoon salt
1 tablespoon sesame seeds, toasted lightly
1 large mango, peeled, pitted, and cut into thin slices (at least 24)



Directions


1.  Wash your rice using cold water, and using several changes of water. Let rice soak in the cold water over night.

2. When you are ready, grab a large deep pot and fill it with water. Bring the water to a simmer. Drain the rice into a sieve and rest the sieve over the pot, cover with a kitchen towel and lid and let the rice steam for 30 to 40 minutes. Make sure to check water level in pot occasionally and add more water if needed.

3. While the rice is being steamed, in a small saucepan bring 1 cup of coconut milk to a boil and add the sugar and salt, keep stirring until the sugar is dissolved and remove from heat. Keep the mixture warm.

4. Transfer the cooked rice to a bowl and stir in the coconut-milk mixture. Let rice sit covered for another 30 minutes or until the coconut milk mixture is absorbed. Can set aside rice covered at room temperature.

5. While the rice is standing, in a cleaned small pan slowly boil the remaining 1/3 cup of coconut milk and 3 tablespoons of sugar, stirring occasionally for 1 minute. Transfer the sauce to a small bowl and let sauce chill until it is slightly cool and thickened.

6. To serve, mold 1/4 cup servings of sticky rice on to a dessert plate, drizzle the dessert with sauce and sprinkle with some sesame seeds (optional). Divide the mango slices among the plates and serve!