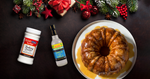 Serves: 10-12 servings  | Prep time: 25 minutes | Cooking time: 45 minutes
Ingredients  




Directions


1. Preheat your oven to 350 degrees F (175 degrees C). Grease and flour a 9-inch bundt pan.

2. In a large mixing bowl, cream together the butter and sugar until light and fluffy. Beat in the eggs one at a time, mixing well after each addition.

3. In a separate bowl, whisk together the flour, baking powder, and salt. Gradually add the dry ingredients to the butter mixture, mixing until well combined. Stir in the rum, vanilla extract, and chopped nuts.

4. Pour the batter into the prepared bundt pan and smooth the top. Bake for 45-50 minutes, or until a toothpick inserted into the center of the cake comes out clean.

5. While the cake is baking, make the rum glaze. In a small saucepan, combine the sugar, butter, and rum. Cook over medium heat, constantly stirring, until the sugar has dissolved and the mixture is smooth.

6. When the cake is done, remove it from the oven and let it cool in the pan for 10 minutes. Invert the cake onto a serving plate and spoon the rum glaze over the top, allowing it to drizzle down the sides.

7. Serve the cake warm or at room temperature.