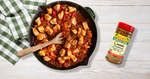 Serves: 4 servings  | Prep time: 20 minutes | Cooking time: 35 minutes
Ingredients  




1 pound boneless, skinless chicken breasts, cut into 1-inch pieces

1 cup canned diced tomatoes

1/2 cup chicken broth

1/2 cup chopped onion

1/2 cup chopped green bell pepper

1/2 cup chopped celery

1 tablespoon vegetable oil

1 clove garlic, minced

1 tablespoon Cool Runnings creole seasoning

Cooked rice, for serving



Directions


1.

Heat the oil in a large saucepan over medium heat. Add the onion, bell pepper, celery, and garlic and cook, stirring occasionally, until the vegetables are softened, about 5 minutes.



2.

Add the chicken to the saucepan and sprinkle with the creole seasoning. Cook until the chicken is no longer pink on the outside, about 5 minutes.



3.

Stir in the tomatoes and chicken broth. Bring the mixture to a boil, then reduce the heat to low and simmer, covered, until the chicken is cooked through, about 20 minutes.



4. Serve the creole chicken over cooked rice and enjoy!