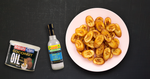 Servings: 4 servings | Prep time: 10 minutes | Cooking time: 10 minutes
Ingredients  


 

 
Directions


1. In a large bowl, add the plantains and brown sugar and toss to evenly coat.

2. Grab a skillet, melt some coconut oil over medium heat and add the plantains.

3. Cook the plantains until it is browned and crisp at the bottom, Be sure to watch them carefully so they do not burn. (around 3-5 minutes) Flip the plantains and cook for another 2-4 minutes. 

4. Mix together the maple syrup and vanilla extract. Carefully pour the mixture onto the plantains and toss. 

5. Transfer to a bowl and serve!