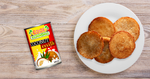 Servings: 3 servings | Prep time: 25 minutes | Cooking time: 30 minutes
Ingredients  


 
Directions


1. Grate your cassava using the smallest holes on your grater. Place the grated cassava into a cheesecloth and squeeze out the excess liquid, can discard.

2. Place cassava in a bowl, add salt and mix well. 

3. Lightly grease the frying pan, and let heat up over medium heat. Add one cup of dry cassava to the pan and press to form a disk, Cook on each side for 10 minutes. 

4. Soak the bammy in coconut milk for 10 minutes. 

5. Add oil to a skillet over medium-high heat, fry the bammy until golden brown on each side (about 3 minutes). Serve hot!