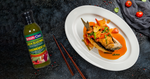 Servings: 6 servings | Prep time: 10 minutes | Cooking time: 25 minutes
Ingredients  


 

1 fish (3½ Ibs.)
½ tsp minced garlic
½ tsp salt
½ tsp black pepper
1 cup water
1 tbsp. cornflour
½ cup ketchup
2 tbsp brown sugar

½

tsp minced ginger

½ 

cup carrots, finely shredded or coarsely grated

¼ cup vinegar

 (white or cider)
salt and pepper to taste
parsley or slices of lime



Directions


1. Wash and season fish with green seasoning, garlic, salt and black pepper.

2. Steam or poach fish.

3. Combine 1 cup water, cornflour, ketchup, brown sugar, ginger and carrots; cook over medium heat until vegetable is cooked and sauce is thickened.

4. Add vinegar, salt and hot pepper; stir well and remove from heat.


5. Remove fish to a large serving platter and pour sauce over it.

6. Garnish with parsley or slices of lime. Adjust sweet and sour flavour of sauce before adding to fish.