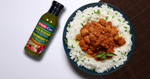 Servings: 2 servings | Cooking time: 40 minutes
Ingredients




Directions


1.

Place the soya chunks into a wide bowl and pour hot water on it to rehydrate it. Soak for ten minutes until it is plump and drain off the water. Squeeze out any excess water from the soya chunks when it has cooled down a bit.



2.

In a separate bowl, season the soya chunks with salt, black pepper, green seasoning and mix well. Marinate for up to 15 minutes at room temperature. In a skillet or frying pan, heat up the oil on medium heat and add in the chopped onions and chili flakes.



3.

Fry for 1 minute until translucent before adding in the soya chunks. Stir and after 1 minute add in the water.



4.

Simmer for 10 minutes so that the soya chunks can absorb all the flavours before adding in the sweet chili sauce. Simmer for a further two minutes on the lowest heat before turning it off. Rest for 5 minutes before serving. This sweet and spicy soya chunks pairs well with some coconut rice and lentils.