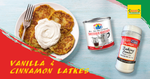 Serves: 10 |  Preparation time: 20 minutes | Cooking time: 10 minutes
Ingredients




Directions


1.

Start by mixing the Cool Runnings ground cinnamon and sugar in a small bowl and set aside

.



2.

In another larger bowl, mix the flour, British class golden sugar, British class baking powder and salt

.



3.

Slowly stir in the liquid ingredients: orange juice, milk, eggs and vanilla extract until blended and fold in the apples

.



4.

Take your cast-iron or other skillet and h

eat 2 tablespoons of oil. When ready, drop the batter by 1/4 cupfuls into the oil and press lightly to flatten

.



5.

Fry in batches until golden brown on both sides and drain on paper towels. Sprinkle with cinnamon-sugar from step 1

. Enjoy.