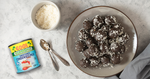 Servings: 30 servings | Prep time: 60 minutes | Cooking time: 2 minutes
Ingredients  




250g packet of biscuits
2 tbsp dark rum
1 1/3 cups desiccated coconut
180g dark chocolate, chopped
Directions


1. Process the biscuits in a food processor or crush them in a plastic back so they are in crumble forms. Transfer the crumbled biscuits to a bowl. Add condensed milk, rum and 1 cup of coconut to the bowl. Mix well to combine it and let sit in refrigerator for 15 minutes. The mixture should be slightly firm.

2.  Roll the mixtures into balls. Place the remaining coconut in a shallow ball and roll 1/2 of the balls in the coconut to coat it. Transfer to a plate.

3. Place the chocolate in to the microwave for 1 to 2 minutes, stirring halfway, Make sure the chocolate is melted and smooth. Line a baking tray with parchment paper. Take a fork and dip remaining balls in the chocolate, let the excess chocolate drip off. Place on prepared tray, and let refrigerate for 20 minutes to set. Serve when it is set.