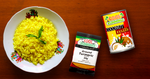 Ingredients




Directions


1. Rinse rice until the water runs clear, set aside.

2. In a medium pot or dutch oven on medium heat add coconut oil, jalapeño, pepper, turmeric, and shallot.

3.

Sauté for 1-2 minutes or until fragrant.



4.

Add rice, salt, coconut milk, lime zest and water. Stir together and increase the medium-high heat.

5. Once it comes to a boil, reduce the heat, cover and cook for 14-16 minutes. 

Fluff with a fork and stir in arugula and cilantro. Serve hot and enjoy!