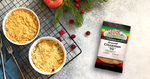 Ingredients




2 lbs. apples (approx. 6 apples)

2 tbsp. water

4 tbsp. or 2 oz. margarine, softened

⅓ cup flour

¾ cup British Class oats

½ cup chopped walnuts or almonds



Directions


1.

Peel and slice apples.



2. Combine the apples, ½ cup brown sugar, water and cinnamon.

3. Mix together margarine, ½ cup remaining sugar, flour, oats and nuts; stir well until crumbly.

4.

Place the apple mixture in a greased 8" square dish and top with crumb mixture.

5. Bake in a preheated oven 375 F for 35 minutes or until the apples are cooked.