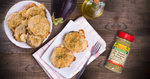 Serves: 6 servings
Ingredients




½ cup fine dry breadcrumbs
½ tsp. Cool Runnings garlic salt
1 large eggplant, sliced ½" thick crosswise (1 lb.)
2 tbsp. olive oil
¼ cup finely chopped onion or chive
¼ cup finely chopped pimento peppers
½ cup finely chopped olives
1 cup tomato sauce, seasoned
½ cup grated cheese



Directions


1. Combine breadcrumbs, oregano and garlic salt; set aside.

2. Place sliced eggplant in a single layer on a greased baking tray and brush well with olive oil.

3. Sprinkle with onion, pimento peppers and then olives.

4. Brush generously with tomato sauce.

5. Sprinkle it with crumb mixture and cheese.

6. Bake in a preheated oven at 375°F for 8-10 minutes. Do not overcook. Cool and serve!