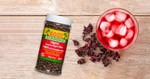 Serves: 4 
Ingredients




1lb sorrel, washed

2 pcs orange peel

1 ginger slice, grated

10 pcs 

Cool Runnings allspice whole

8 cups water, divided

2 oz. rum of your choice

Ice, to taste



Directions


1.

Place the sorrel in a heatproof medium bowl. Reserve.



2.

In a stainless steel pot, add 6 cups of water, orange peel, grated ginger and 

Cool Runnings Whole Allspice

.  Bring it to a boil.



3.

Pour the liquid over the reserved sorrel. Let it stand for at least 6 hours then strain to a pitcher.



4.

In a small pot, mix 

British Class Turbinado Sugar

 and 2 cups of water. Simmer until sugar dissolves completely.



5.

Add the sugar syrup, the rum and the ice to the pitcher. Mix well.



6. Enjoy.