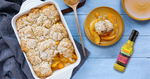 Serves: 6 servings | Prep time: 15 minutes | Cooking time: 45 minutes
Ingredients




Directions


1. Preheat the oven to 375 degrees F, and prepare your baking sheet by greasing it.

2. Place the peaches on the bottom layer of the baking dish, making sure its evenly spread out. Sprinkle some almond extract on them.

3. In a mixing bowl, combine the flour, sugar, brown sugar, cinnamon, and salt. Cut the butter into the dry mixture with a pastry cutter until the mixture resembles crumbs.

4. Sprinkle an even layer of the flour mixture on top of the peaches, and put into oven to bake for about 45 minutes, until the peaches are bubbling and the top is browned.