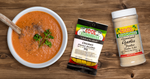 Serves: 4 servings | Prep time: 30 minutes | Cooking time: 90 minutes
Ingredients




7 cups peeled, seeded, and chopped tomatoes
1 cup 2% milk
1 cup finely chopped carrots
¾ cup finely chopped onion
1 

¾ cup of water to dissolve bouillon cubes

3 tablespoons butter
3 tablespoons all-purpose flour
1 tablespoon white sugar
2 teaspoons sea salt
2 teaspoons dried basil
½ teaspoon Cool Runnings ground black pepper
¼ teaspoon Cool Runnings garlic powder



Directions


1. Heat up the stove to a medium-high heat. Take a stockpot and throw in the tomatoes, carrots, and onions, and let boil, once boils reduce the heat to a medium-low. Let simmer for 30 minutes, and stir in the chicken bouillon cubes, more water, sugar and salt.

2. Take saucepan and melt butter over medium to low heat. Slowly whisk in the flour into the saucepan, and stirring occasionally until thick. Next pour in the milk and continue to stir. Cook and stir, whisking consistently until the mixture is thickened (5 minutes). Take this milk mixture and stir into the stockpot. Season the soup with basil, salt, black pepper, and garlic powder.

3. Continue to let the soup simmer on low heat to reduce and thicken (about 1 hour). Serve hot.