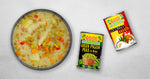 Servings: 6 servings | Prep time: 10 minutes | Cooking time: 10 minutes
Ingredients  


 

3 cups of Cool Runnings pigeon peas, 2 (14-oz cans), fresh or frozen
8 cups vegetable broth, or 2 bouillons plus 8 cups of water
1 cup of

Cool Runnings coconut milk

1 medium onion, chopped
2 green onions, chopped
1/4 cup red bell pepper, diced
2 garlic cloves, minced
1 potato, cut in cubes
1 cup yam, dasheen, coco chopped, (optional)
1 carrot, diced
1 teaspoon Cool Runnings dried thyme
1 whole Scotch Bonnet pepper
6 Cool Runnings pimento whole (allspice)
1/2 teaspoon fresh ginger, grated
Dumplings
Salt to taste


Directions


1. Drain and rinse peas, add the peas into a pot and add about 3inches of water above the peas. Bring the peas to a boil, reduce the heat and simmer. Cook the peas for 1 hour, until it is tender.

2. Add the vegetable broth, coconut milk, onion, green onion, red bell pepper, garlic, potatoes, yam, carrot, thyme, scotch bonnet pepper, allspice berries, ginger and dumplings into the pot.

3. Bring the pot to a boil, reduce the heat and let simmer for 20 minutes, season with some salt to taste. 

4. Serve and enjoy!