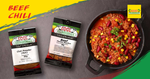 Serves: 6 |  Prep time: 10 minutes |  Cooking time: 20 minutes
Ingredients

 

2 lbs ground beef
3 garlic cloves minced
1 medium onion finely cubed
1 large carrot cubed
½ medium green bell pepper cubed
14.5 oz can diced tomatoes
15.5 oz can kidney beans , drained and rinsed
3 cups of water
1 ½ tsp Cool Runnings ground cumin
2 tsp granulated sugar
2 tsp salt
2 ½ tsp Cool Runnings chili powder
½ tsp ground pepper



Directions


1. Heat up your Dutch oven in a medium to high heat, add in the beef and start browning it. Break up the meat while you are stirring.

2. Add the onion into the pot first and cook together, until they are tender.

3. Next, add the diced carrots, bell pepper and minced garlic into the pot. Stir occasionally and cook until the vegetables are tender.

4. Add the 3 cups of water, beef bouillon cubes and diced tomatoes with its juice into the pot. Stir well to combine and dissolve the cubes fully.

5. Turn the heat down to a gentle boil and let the chili cook for another 15 to 20 minutes. Add more time if the meat and vegetables are not at the desired tenderness level.

6. Turn off the heat and allow chili to rest before serving! Enjoy.