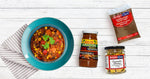 Serves: 4 servings | Prep time: 20 minutes 
Ingredients




Directions


1. In a big pan or casserole, heat up the sunflower oil in medium heat and throw in diced onions and let soften.

2. In a mixing bowl, throw in the ginger, coriander stalks and jerk seasoning and mix together with a hand-held blender. Add the mix into the softened onion and fry until fragrant.

3. Next, stir in the thyme, chopped tomatoes, vinegar, sugar and vegetable stock cubes with 600ml of water and bring to a simmer. Let simmer for 10 minutes, and throw in the sweet potatoes and then let simmer for another 10 more minutes. Stir in the beans, peppers and some seasoning and let simmer for another 5 minutes until the potatoes are almost tender. Remove from heat and let cool.

4. To serve, roughly chop up some coriander leaves and stir into mixture and serve with the remaining coriander leaves as garnish.