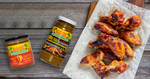 Ingredients




 



Directions


1.

Mix together the all purpose flour and Cool Runnings adobo seasoning in a bowl.



2.

Coat wing pieces well inside the flour mixture and place in a container. Do not stack chicken. 



3. Store inside the refrigerator for 24 hrs.

4.

Fry wings in oil for 5-7 minutes until golden brown and crispy. When wings float to the top of the oil, they are cooked. Avoid crowding the wings and turn them to avoid them from sticking together.



5.

Remove the fried wings from the oil and allow them to drain and oil to soak on paper towels.



6.

To prepare the sauce: In a pan, on low heat, add water, Cool Runnings mango jam, jerk seasoning (scotch bonnet) and stir well.



7. Add finely chopped Mangoes and stir for 45 seconds. 

8. Remove from heat and coat over the wings.