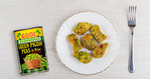 Serves: 4 servings | Preparation Time: 15 minutes | Cooking Time: 30 minutes
Ingredients




1 can of Cool Runnings pigeon peas, drained and mashed

1/2 cup of breadcrumbs

1/4 cup of diced onion

1/4 cup of diced bell pepper

2 cloves of garlic, minced

1 egg

1 tbsp of fresh thyme

Salt and pepper to taste

Vegetable oil for frying



Directions


1.

In a large mixing bowl, combine the mashed pigeon peas, breadcrumbs, onion, bell pepper, garlic, egg, thyme, salt, and pepper. Mix everything together until well combined.



2.

Shape the mixture into small cutlets, about 2-3 inches in diameter and 1/2 inch thick.



3.

Heat vegetable oil in a large pan over medium-high heat.



4.

Carefully add the cutlets to the hot oil and fry for 2-3 minutes on each side or until they are golden brown and crispy.



5. 

Use a slotted spoon to remove the cutlets from the oil and place them on a paper towel-lined plate to drain excess oil.



6. 

Serve the cutlets with a side of your choice, such as a spicy dipping sauce or a salad.