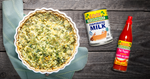 Servings: 8 servings | Prep time: 15 minutes | Cooking time: 1 hours
Ingredients  


 

1¼ cups flour
¼ tsp. sugar
4 eggs
1¾ tsp. salt
2½ oz. cold margarine
1½/-2 tbsp. ice-cold water
½ tsp. lemon or lime juice
1 tsp. prepared mustard
½ cup finely chopped onion
1-1½ cups grated cheese
1½ cups of Cool Runnings evaporated milk (low fat or skimmed)
2 cups cooked spinach
½ cup sliced sweet peppers
1 tsp. Cool Runnings paprika



Directions


1. Sift the flour and add sugar and ¾ teaspoon of salt.

2. Cut in margarine until fine as peas; add cold water and lime juice and mix to a firm dough. Refrigerate dough for 1 hour before rolling.

3. Roll out the dough to fit 9" pie dish; prick with a fork and bake for 8-10 minutes at 400°F.

4. Beat eggs slightly and add remaining 1 teaspoon salt, mustard, onion, cheese, milk, spinach, sweet pepper and hot pepper.

5. Pour into pastry shell and sprinkle with paprika.

6. Bake in a preheated oven at 350°F for 35-40 minutes or until knife comes out clean when tested.